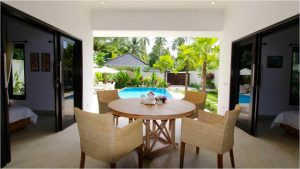 Lovina Villa for rent – Villa Kupu Kupu
A very cozy villa in a nice & quiet Lovina area. Guests will have time to relax, swim and let themself be pampered by our staff.
The villa offers 2 bedrooms and a private swimming pool – all walled-in and gated for your precious privacy.
Rent a motor bike or ask a driver and in a few minutes your are in Lovina, to find  bars, restaurants, supermarkets and plenty of souvenir shops.
Guest access
the guest will have access to all the rooms in the house , but please not enter the pump rooms if not necessary. Also the kitchen is open for you , so feel free to cook by yourself or together maybe with the staff. If you cook by yourself, please keep the kitchen clean , we living in the tropic here, and it is easy to invite some insect .
Guest interaction
On your stay, the staff is willing to help you will all kinds of things like : shopping, cooking, trips call driver etc etc. If you really have a problem, we are the most time on Bali to help you , in case we are not here we have a friend who will do it. The telephone numbers will be in the villa
Neighborhood overview
Villa is situated in a natural environment Quiet area, not too much traffic , and a lot off privacy but still near to Lovina , in 5 minutes you are in the center.it is about 2 km to the centrum from Lovina .
Getting around
best way to travel in Lovina , is by motorbike, you can rent them everywhere, also the staff can arrange it. We will ask a company from Lovina , to arrange a motorbike for you , our experience with them is ok . If you not feel comfortable with that, we have also a driver which we can call for you.  He is living closely so easy to ask him . Also a pick up in the airport is possible to arrange for you. Price for pick up at the airport  is about 750.000 rp . In the villa there is some documentation for tours . We also can send you a file by email with the high lights from North Bali .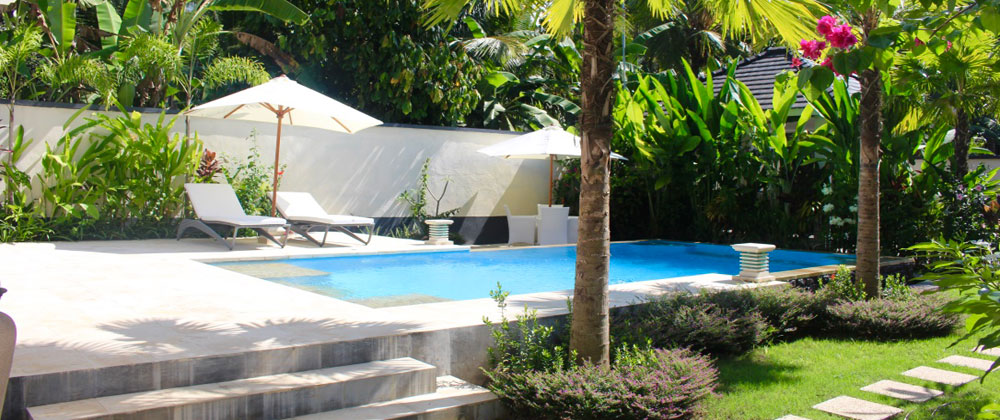 Villa Kupukupu Rental Rates & Terms
Low Season Rate: 75 € / p. night up to 4 persons. 
High Season Rate: 85 € / p. night up to 4 persons.
Maximum occupancy 4 persons!
Minimum stay 3 nights
Maximum rent term 28 nights
Long Term rental rate – more than 30 nights – to be negotiated
No smoking indoors
No Pets
Recently stayed at Kupu Kupu.
Enjoyed the tranquility and the luxurious comfort of the villa.
Everything spic and span, well cared for and maintained.
 We had a great time
Huge thanks!

Bali, July 2023

Read more...

Amazing place to stay! Couldn't recommend more highly. Photos are as advertised and pool is absolutely fantastic!
Tari the housekeeper was so lovely, cleaned the villa everyday and cooked us breakfast. And also Ketut the gardener came to clean the garden and pool every morning.
Communication with Willem was great from the beginning and throughout the stay.
We will definitely be back to stay next time we come to Bali, thank you so much.

Read more

William is an amazing host! He came in person to greet us and to show us the villa! Tari the housekeeper is just lovely! Both helped us a lot with local directions, renting scooters and having a pleasant stay in Villa Kupu Kupu. The pancakes in the morning are the best!!
They even helped us when we got the Bali belly with local medicine- so thankful!
The house is very clean, you have everything you need and Lovina is lovely.
The way to Lovina is a bit rough, the street is super steep and sinuous. It's really hard if you wanna drive that street by yourself with a scooter to visit some waterfalls and other places around.
The pool got cleaned every day.

Thanks for stay we enjoyed it!

Read more...

Safe, clean fully equipped kitchen and good WiFi. Daily caretaking of the garden and the house is done. Well prepared info booklets are available in the villa and they are easy to read. Staff is extremely polite and attentive. Pool depth is gradually increasing to 2.20 meters and pleasant for families especially with swimmer kids.Others need to be with the kids at all times. Pool and garden illumination is adequate. Beds are comfortable, enough electric outlets in the room per person and overall in the villa, additional EU/UK/US adapters also exist. Air-conditioning and ceiling fans are also good for a good circulation. Ms Tari is attentive and professional.She can practically handle most likely the things including market purchases and cooking as well. There is a small (height is good but small) bbq exists There is a spa nearby walking distance and if you want they can pick you up/drop as well. You can order food and market needs via Grab app as well.All delivered in 15 minutes. We enjoyed our time at Villa Kupu Kupu.

Read more...

We really enjoyed our stay. There are several key players who really take care that you will have a great time in the villa.

Willem as the main contact and host of the villa. Very friendly and answers any kind of request within minutes. If needed he is always willing to help you with the organization of local things (e.g. renting a scooter).

Tari who is not only taking good care of the villa itself, she is also a great chef and a sweet soul. We never had such great pancakes before 🙂
Independent of which kind of meal you ask her to prepare be sure the quality of the food can easily compete with the restaurants of Lovina. Would absolutely recommend to taste her food, we loved it.
Tari is also willing to help you with the organization of trips.

Endra, who brings you safely to any destination in Bali you intend to go to by car. Fair prices. Open-minded, funny and likable person. You can reach out to him via messenger, Tari can provide the phone number.

To wrap it up, Villa Kupu Kupu is absolutely worth the money and worth a visit.
Clean rooms, great staff and a big pool – what else do you need?

Read more...
Lovina Villa for rent Villa Kupkupu Location Map

Lovina Villa for rent – Please contact us for inquiries on Villa Kupukupu
[contact-form-7 id="316″ title="Villa Kupukupu"]
Are you looking for a beautiful North Bali Villa to purchase?
Details
Guests:

4

Amenities:

Air conditioning/bedrooms, Car or Bike Rental available, Dining area, Flat-screen TV, Free Parking Onsite, Free WiFi, Pool Shades, Pool Terrace, Private pool, Sun Loungers, Terrace, Walled-in & Gated

View:

Garden view , Private Outdoor Pool

Size:

105m²

Bed Type:

2 Queen SIze Beds 200x160

Categories:

Lovina Town Villa
Prices start at: €225 for 3 nights
Availability
Thank you for your Inquiry!