North Bali Seaside Villa Sungai Raya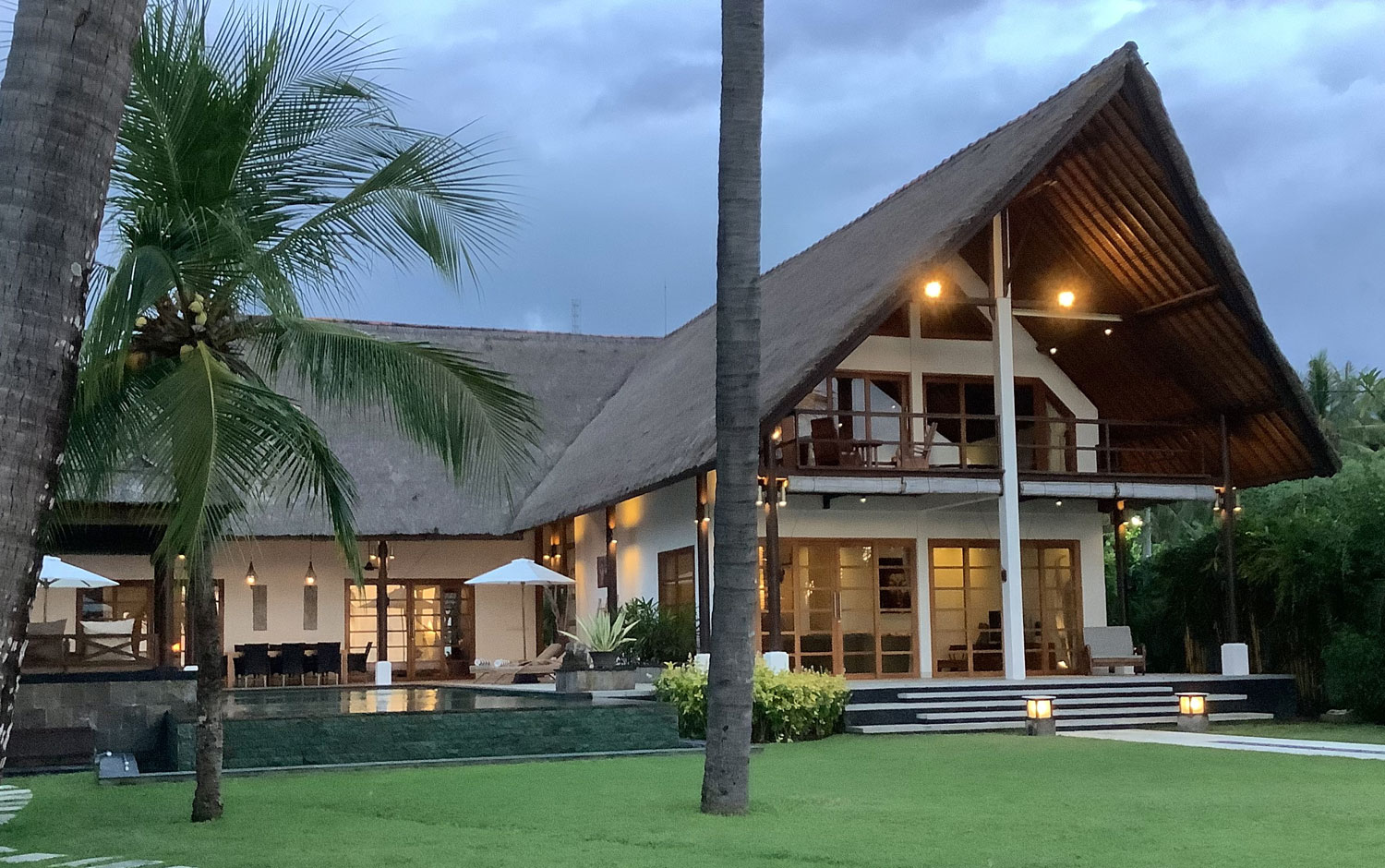 With a beautifully landscaped tropical garden with swimming pool right on the beach of North Bali. (including staff (included in the price)
Beach villa Sungai Raja is our dream villa, step into our dream when we are not there. It is a contemporary Balinese villa with many traditional elements.
As soon as you enter the villa through the Balinese gate and the stepping stones of the lotus pond, a warm blanket of hospitality and luxury unfolds.
The villa is comfortably furnished in combination with authentic elements and in a very open style so that inside and outside flow seamlessly into each other in this tropical climate where life mainly takes place outside.
The large villa is partly covered terrace is adjacent to the swimming pool with sun beds, a lounge area and dining table. The villa is located in North Bali on the beach, a place to relax surrounded by nature and culture.
Your dream vacation in our luxury holiday home in Bali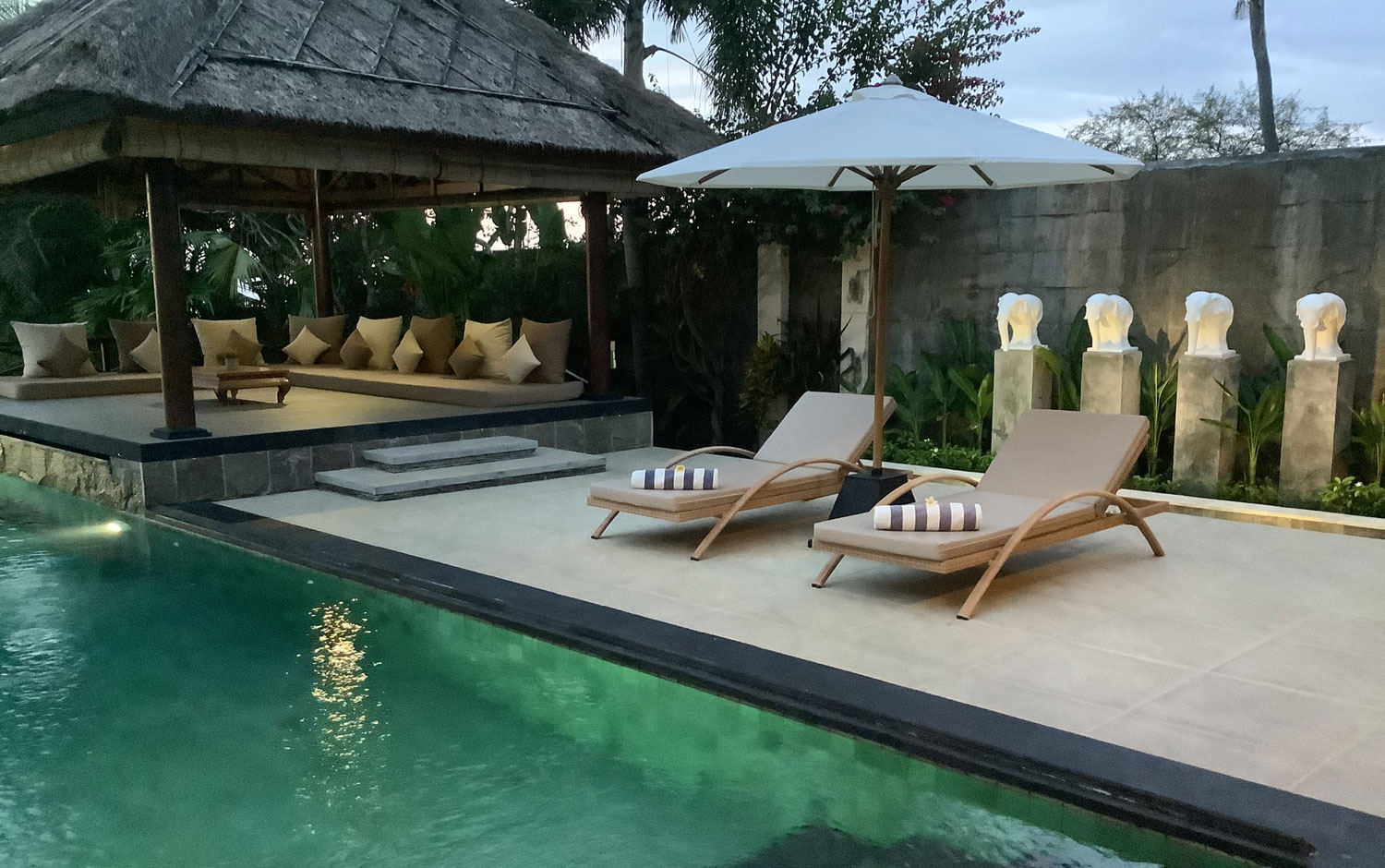 This luxury beach villa can accommodate up to 8 people, you rent this holiday home including staff. The staff of Villa Sungai Raja is at your service 6 days a week to ensure an unforgettable holiday.
Our cook Gusti will cook for you based on the menu card available in the villa, breakfast, lunch or dinner.
Villa Sungai Raja does not have the facilities of a restaurant. It is not possible to cook a meal for each individual.
Of course it is no problem to cook 2 or 3 dishes in one meal, in consultation with our cook. All this is included in the price, (except for groceries, which are for your own account),
On the 1950 m2 plot of land, you find a beautifully landscaped tropical garden with large swimming pool.  A maximum occupancy of 8 persons is available at North Bali Seaside Villa Sungai Raya.
North Bali Seaside Villa Sungai Raja – Pool 
For a refreshing dip, the villa has a large infinity pool. There are sunbeds and umbrellas on the pool deck, so you can relax by your own private pool
North Bali Seaside Villa Sungai Raja – 4 Bedrooms
The villa has 3 double bedrooms downstairs with fan and air conditioning. Each bedroom has its own bathroom with toilet and shower.
In addition, bedroom 4 you find on the first floor with balcony,you can sleep particularly romantically in a 2-person modern Balinese bed.
Also here is a private bathroom with toilet and shower. All bedrooms have a safe for storing your valuables.
North Bali Seaside Villa Sungai Raja – 4 Bathrooms
Each bedroom has an ensuite bathroom with double sink, shower and toilet. And enough space to store your toiletries
Kitchen Villa Sungai Raja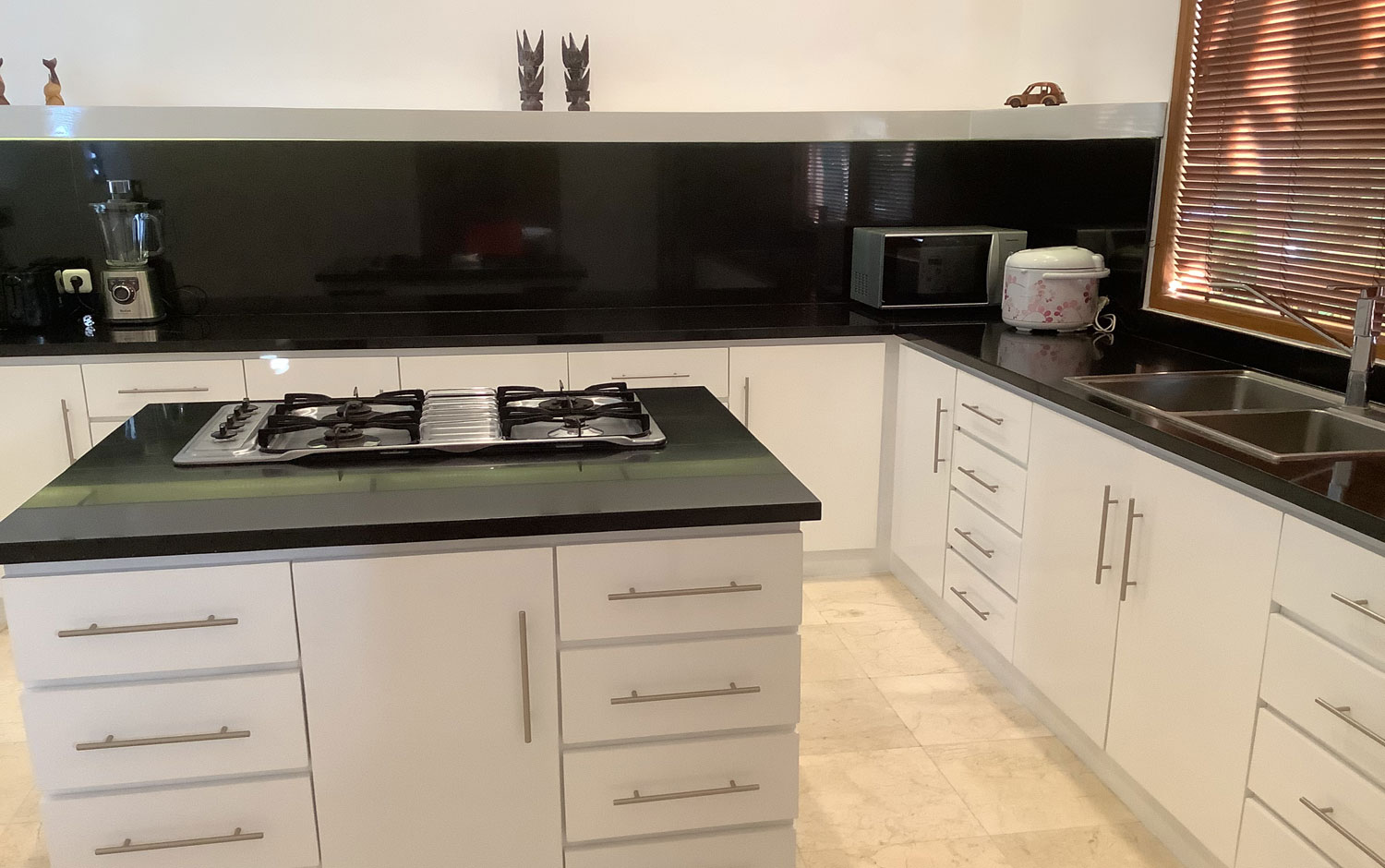 For the preparation of delicious meals by our chef Gusti, the kitchen is fully equipped such as a 4-burner stove, microwave, coffee maker, toaster, blender, ice cube maker, freezer and refrigerator. We cook based on a menu card, breakfast, lunch and dinner.
Living insite Villa Sungai Raja
The living room is equipped with a 54 inch HD LED TV, large corner sofa. Internet fiber optic TV, HBO on demand
Via the WIFI you have access to the internet, you can make unlimited use of this 24 hours a day.
Living outside living
Outside living, large table with 8 chairs / corner sofa / sonos sound system
North Bali Seaside Villa Sungai Raja – Fantastic location, right on the beach of Bali
The Brongbong fishermen have their boats close by on the beach; when you get up early you can see them in their traditional fishing boats with floats.
Often on Sunday afternoons around 4 pm, families of Dessa Brongbong and their children drop onto the beach for their weekly swim and bath.
It is a beautiful spectacle from the balcony or a good opportunity to start a conversation with the talkative Balinese.
Relax in this luxury North Bali Seaside Villa
For example, from the covered terrace overlooking the pool and the Balinese sea. It is also wonderful to relax in the evening, with a pleasant evening and night temperature. Or from the so-called bali benoung or gazebo it is also wonderful to relax with a cooling breeze from the sea.
North Bali Seaside Villa Sungai Raja located directly on the beach of Bali
The entire plot of our holiday home is fenced, with direct access to the beach on the beach side.
On the street side is a large sliding gate that provides access to the villa with its own parking space.
All bedrooms have air conditioning and a ceiling fan, a safe and large closets where you can store your belongings.
Our staff greatly appreciates it if you store your belongings in the designated cupboards, so that cleaning can be easier.
First floor plan 1 bedroom / 1 bathroom / sleeps 2
On the first floor (loft) with balcony, you can sleep very romantically in a 2-person modern Balinese bed.
Also here there is a ensuite bathroom with toilet and shower.
North Bali Seaside Villa Sungai Raja – Facilities
You have in this luxury beach villa six days a week personnel at your service, our staff  will cook, wash and clean for you.
If desired, they will also do the grocery shopping for you (at your own cost, but groceries are very cheap). The swimming pool and the garden will also be kept by our staff for six days a week
North Bali Seaside Villa – Villa Security
The beach villa has its own security post which has a guard in the evening and at night so you can enjoy a safe and undisturbed night's rest.
Transfers / daytrips in Bali
Make day trips with our own drivers. If desired, we can send a driver(s) to pick you up at the airport and take you to the villa. (pick up service) The drive to the villa takes about 2,5-3 hours.
Villa Sunga Raya Rental Rates & Terms
Low Season Rate: 173 € / p. night up to 2 persons. 
High Season Rate: 195 € / p. night up to 2 persons.
Each additional person 15X € / p. night
Maximum occupancy 8 persons!
Minimum stay 3 nights at Low Season / 5 nights at High Season
No smoking indoors
No Pets
North Bali Seaside Villa Sungai Raya Location Map


North Bali Seaside Villa
Please contact us for inquiries on Villa Sungai Raya
Looking for a beautiful North Bali Villa to purchase in North Bali?