North Bali Villa for rent – Villa Surgawi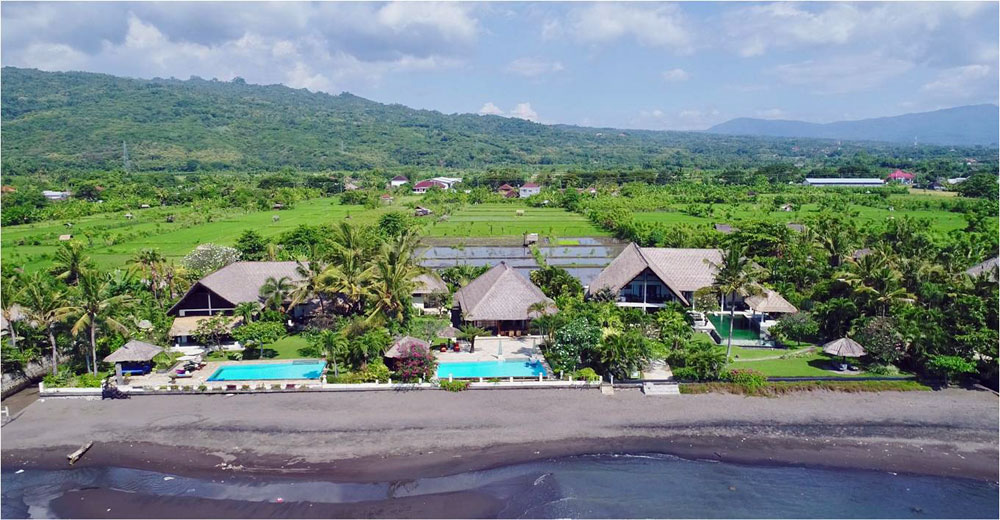 Beautiful "beachfront villa" located in the village Dencarik, just 7 km west of Lovina – North Bali. The villa consists of 2 bedrooms with AC, and 2 en-suite bathrooms, a swimming pool of 12 x 6 meter and a bale bengong for relaxing.
Housemaid and cook is available! The staff is included in the rental rate and offer its services for breakfast, lunch and dinner without extra charge. Also our housemaid will do the shopping for your special needs on request.
Villa Surgawi is built on 10 are beachfront land, with a living size of approx. 140 m², (terrace is about 30 m2, pool size 12 x 6 meter, bedrooms are 4 x 4 meter and the bathroom are 2 x 4 meter) . The Villa offers free wifi-internet and TV . Our guests have access to every room inside the villa.
On the plot are some rooms closed for guests like pump rooms, and storage places. We have a guest house on the ground available for 2 additional guests on special request. If you need some help during your stay in the villa, please do not hesitate to ask our friendly staff. Our staff will be glad to assist you to arrange sightseeing tours and much more.
For more complicated problems, the villa owner is available and lives close by in Lovina. The villa is located in Dencarik, this is about 7 km west of Lovina and within walking distance there is a new Beach Club ( La Costa ), which is open daily and serves lunch and dinner with a spectacular ocean view and spectacular sunsets in the late afternoon.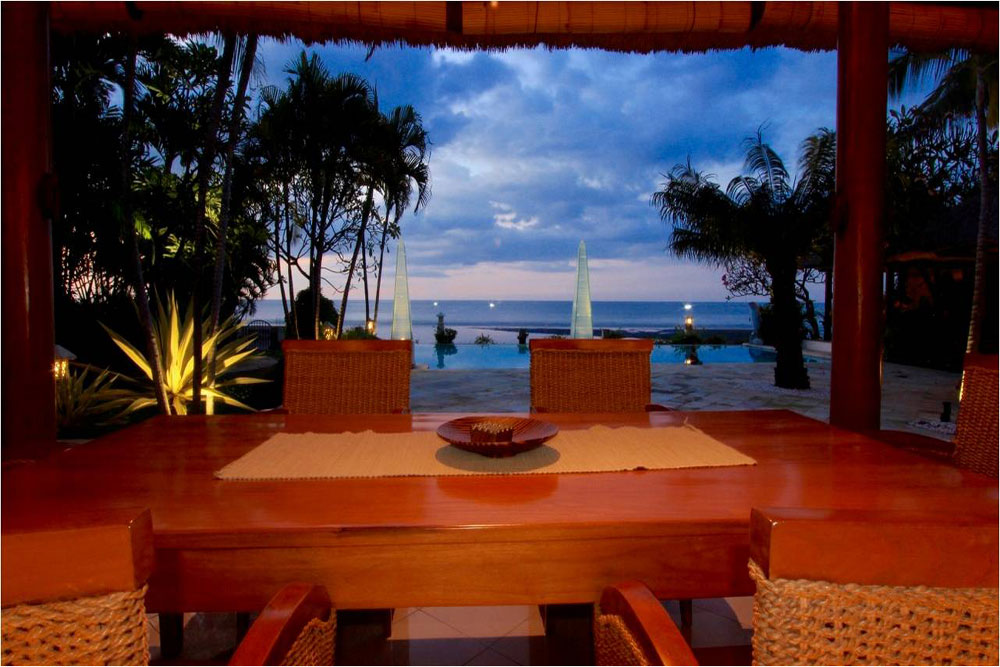 And just next door of the Beach Club offers a wide range of water sport activities (jet ski, banana boat etc.). Also next door from La Costa Beach Club there is a local restaurant ( Subak ) which offers fresh grilled fish / seafood and some selected local dishes.
Close by there is "Krisna oleh oleh" the first stop in North Bali to find all kinds of special local souvenirs.
On the other side from the street you have  2 more restaurants – Bebek Tepi Sawah Restaurant & Baturiti Restaurant.
On the main street you can take a local Bemo, (public transport ). Taxis are not available in the North of Bali. But we also can assist / organize to rent a motorbike (scooter) or car on request (with or without driver).
North Bali Villa for rent – Guest access
You will have access to every room in the villa , On the plot there are some rooms closed for guest , like pump rooms, and storage place Also there is a guest house, for 2 people , it is available on special request but At the moment it is used for storage
North Bali Villa for rent – Guest interaction
if you need some help during your stay in the villa , pls not hesitate to ask, The staff can help you to arrange trips etc etc.. if more complicated problems , i am also in or around lovina area
North Bali Villa for rent – Neighborhood overview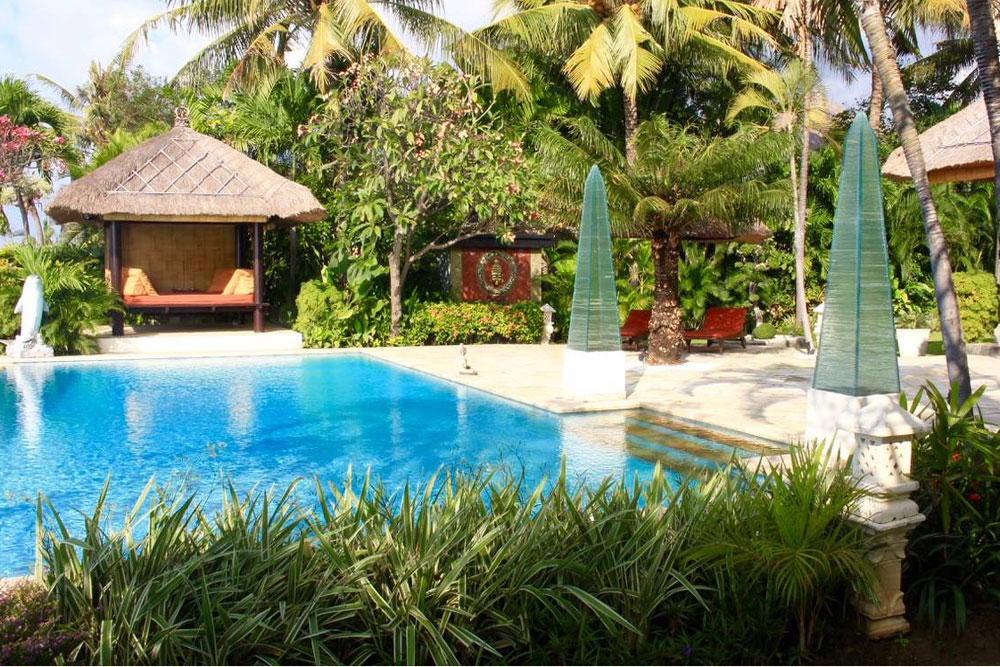 The villa is located in Dencarik , it is about 7 km from Lovina, but on walk distance we have a new beach club ( La Costa ) , where you can go for your dinner or lunch.
Also the possibility to do watersport at LaCosta Beach Club. Next door from La Costa there is a local restaurant ( Subak ) with fesh grilled fish and other seafood – definitely worth trying it.
Close by is also "Krisna oleh oleh"  – all famous and large Bali souvenir shop. On the backyard of Krisna are sevaral small restaurants offering local style food. On the other side from the street you have another 2 restaurants serving all kinds of local food – Bebek Tepi Sawah Restaurant & Baturiti Restaurant
North Bali Villa for rent – Getting around
At Lovina's main street are frequently so called  bemo's , ( blue small public transport ) driving by and will stop at your hand signal. But definitely most guest prefer to rent a motorbike or a car with driver. International driver license is required in Indonesia to drive a vehicle as a foreigner.
Villa Surgawi Rental Rates & Terms
Low Season Rate: 140 € / p. night up to 4 persons. 
High Season Rate: 160 € / p. night up to 4 persons.
Maximum occupancy 4 persons!
Minimum stay 3 nights
Maximum rent term 28 nights
Long Term rental rate – more than 30 nights – to be negotiated
No smoking indoors
No Pets
This Villa is an oasis of calm and beauty.
Ketut in the house is lovely and Gde who tends to the garden is an artist. The garden is divine.
Home cooking by Ketut or deliveries and an easy trip to Lovina for restaurants via the other Ketut who is a safe driver and a lovely guy.
Could it be any better. No.
Willem is a great an informative host who is available for any questions you might have. I would stay here forever. Terimakasi

Read more

Great villa with beautiful views to the water. The villa and gardens are spotless and immaculately cared for. Ketut makes some great food, as long as you provide the groceries, and it is easy to get Ketut (the driver) to take you into town when needed. Thanks Willem and staff for a lovely stay!

Read more...

We had the most relaxing time at Willem's Villa, meals were cooked & even had some prepared for the days Katut the cook was off.
The villa presents as good as the pictures, it extremely relaxing sitting in the bali hut by the pool listening to the waves rolling onto the beach, we spent most of our days on the day bed just unwinding.
Wifi works out there as well and it has power point which was handy.
The driver they organised for us would drop us off in Lovina & come back & picked us up at a set location & time, he was never late & charged us $200k total each time.
If you need to unwind & relax this is the place.

Read more...

We had an amazing stay at Willem's place. It felt very homey and looked even better in person than in the pictures. Willem communicated well and helped us with all our requests. The gardener took care of the outside of the villa throughout the day so the garden and the pool looked perfect at all time. Having Ketut available to cook our meals was such a big plus. She took care of the groceries for us and would cook us amazing local meals or anything else we wanted, we will miss that. Thanks a lot for the stay!

Read more...

Best part was Katut. The maid and cook. Kept the place spotless, did the laundry. An excellent cook. Worst thing was Sunday was her day off. A bit far from shopping and restaurants but for 200K you get a driver to take you around. Excellent scuba diving and great land tour.

Read more...
North Bali Villa for rent Villa Surgawi Location Map

North Bali Villa for rent – Please contact us for inquiries on Villa Surgawi
Looking for a beautiful North Bali Villa to purchase?
Details
Guests:

4

Amenities:

Air conditioning/bedrooms, Air-conditioning in all rooms, Balcony, Beachfront, Cooking Available, Dining area, Flat-screen TV, Free Parking Offsite, Free Parking Onsite, Free WiFi, Housekeeping, Motorbike rental, Outdoor Pool Shower Unit, Pool Shades, Pool Terrace, Private pool, Sun Loungers, Terrace, Walled-in & Gated

View:

Seaside, Beachfront

Size:

140m²

Bed Type:

2 Queen SIze Beds 200x160

Categories:

Beachfront Villa
Prices start at: €420 for 3 nights
Availability
Thank you for your Inquiry!